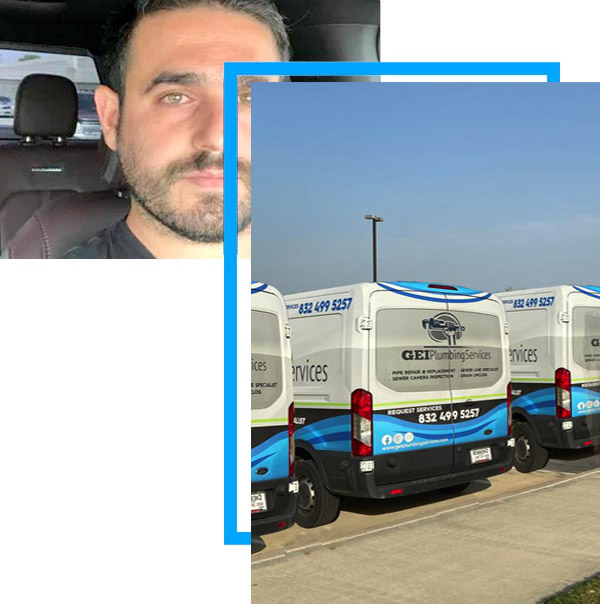 We are a 24 hours emergency plumbing company in HOUSTON TX
At GEI Plumbing Services Company we provide a wide range of Plumbing Services to costumers in Houston and nearby cities.
Residential Plumbing Services
We have experience that makes a difference
GEI Plumbin Services is managed by Ido Cohen who is an expert and reliable plumber, who has many years of experience in awarding Plumbing services in Houston Texas and nearby cities. Ido and the team have a great love for plumbing work and fix problems. The company has a long line of satisfied and loyal customers. 
All the work in the company is supervised by Ido Cohen, a plumber with over 28 years of experience in the field of plumbing, professionalism at the highest level. We use of the most efficient and modern tools. Our specialization as a company is in locating and repairing difficult and complicated liquidity and returning the situation to its former state in the highest finish.
In order to provide his customers with the best service at a warranty and at a fair price, Ido Cohen combines the comprehensive professional knowledge And the vast experience he gained during his years of work, along with the use of diverse and state-of-the-art plumbing equipment such as a thermographic camera for leak detection Underfloor and hidden moisture, fiber optics for photographing sewer lines, high pressure washing truck, sewer and so on. And no less important – with a kind, cordial, trustworthy and considerate attitude to the customer, combined with a constant smile.
Among GEI Plumbing's services in Houston Texas and surrounding cities
We specialized in Plumbing Services such as Residential Plumbing Services, Emergency Plumbing services, Drain Cleaning, Water Heater Repair, Pipe installation, Water Heater, Pipe Leak Detection, Bathroom & Kitchen Remodeling, Repairing & Installing Plumbing Fixtures, When Houston Plumbing Company truck pulls up to your house, you will get a service from our Highly professional, experienced, skilled plumbers. They will give you their experts job done in minimum time.
professionalism at the highest level
Use of the most expensive and high-quality materials
Thousands of satisfied customers in the Houston area
During his decades of work, Ido Cohen has amassed a wide and loyal clientele around him, who enjoys the professional, reliable and courteous service. The company's customers include a variety of private customers, business owners, house committees, many companies, towns and localities, institutions and more. After proving his professional skills and good services for years after years, Ido Cohen's reputation speaks for itself.
We invite you to join our large clientele and enjoy dedicated and reliable service in any problem, renovation or other need, because there is no substitute for professionalism, years of experience and responsible and fair service that can be trusted with complete confidence, all at a fair price. Do not agree to compromise on less when you need the services of a plumber in the Houston Texas area.
We offer a wide range of plumbing services catered to both residential and commercial clients
We take pride in our work and strive to ensure guaranteed satisfaction.
We had a complicated problem with our plumbing and these guys had to come out multiple times to find and resolve the problem. Each time out they were friendly, professional, and did excellent work. The bill was reasonable as well! We will absolutely be using this company in the future. Thank you.
Had a leak in my apartment and my technician from GEI was very helpful from start to finish! The people who answered the phones addressed my problem was "can-do" attitude and got a technician out to my place in just a few hours. The technician was eager to help, knowledgeable, honest and professional. Thanks for all your help!
I had Gei plumbing services replacing all the pipes in my house. Job was very clean, the also have a remodeling company so they were able to send someone to close all the cuts in the drywall. Definitely recommending this company. I wanted a clean job and not to need to have a contractor coming after the plumber to complete repairs and with this company I was able to have all done in one stop shop.
I had a new tankless hot water system installed by GEI plumbing services and could not be happier with the end result. Jared did a fantastic job of explaining what I should expect with the install as well as operation of the unit. Everything was done very fast and it looks great! He has also been very responsive to my follow up questions as well. I would absolutely recommend him for any plumbing job.
Guy was amazing. We called him when our water heater was leaking. He came to our house within 40 minutes. We got the heater here the same night. He returned the next morning and did the install as it was late. We have new carpet and he was very cautious to cover where he was working to not get anything on the carpet. I would surely use him again for any other plumbing need.
Very awesome! The woman that answer phones and scheduled me was exceptionally friendly and made sure to make me feel like I was a very valued customer. One tech came out personally and got everything fixed immediately! Was right on time and did great work on both of my toilets. Highly recommend! Much cheaper than other quotes I got and great work.
These guys were friendly and professional. They discussed with me the procedures necessary to make the installation possible, and stayed with it through some minor difficulties. I highly recommend them to anyone.
Ido was the perfect gentleman. He assessed my project and gave me the utmost professionalism and service. He responded to my thumbtack request within minutes and was out at the project site within an hour! He also had a plumber at my site within a couple of hours. He was fast, friendly, and acted with the utmost integrity. I will most certainly refer him to all my friends!!
We offer a wide range of plumbing services catered to both residential and commercial clients. In enim justo, rhoncus ut, imperdiet a, venenatis vitae, justo. Nullam dictum felis eu pede mollis pretium.