Quality Service is Our Guarantee
We offer a wide range of plumbing services catered to both residential and commercial clients.
Houston Plumbing Company
Our team of Houston plumbers are all certified and have many years of experience in both residential and commercial plumbing jobs. Whether you're experiencing a small leak or something more severe, our dedicated team of highly trained professionals can get to the bottom of it with a free assessment.
Plumbing Services Near Houston
We provide affordable plumbing services, water damage cleanup and restoration services.
Licensed Plumbers in Houston
Not only do we offer very competitive rates, but we are also a licensed and insured plumbing company near you, offering discounted service bundles for residential and commercial clients.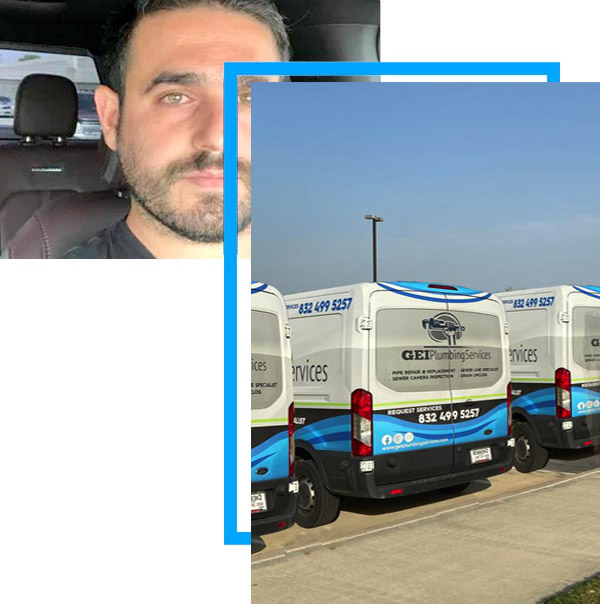 Emergency, 24/7 Plumbing Services Houston, TX
At GEI Plumbing Services Company we provide a wide range of Plumbing Services to costumers in Houston and nearby cities. 
Residential Plumbing Services
We specialize in Plumbing Services such as Residential Plumbing Services, Emergency Plumbing Services, Drain Cleaning, Water Heater Repair, Pipe Installation, Water Heater Installation, Pipe Leak Detection, Bathroom & Kitchen Remodeling, Repairing & Installing Plumbing Fixtures, and more. When a GEI Plumbing Services truck pulls up to your house, you get a highly professional, experienced, skilled plumber that will do an expert job in minimum time.
11 Reasons to Work with GEI Plumbing Service
We have many clients in Houston and the surrounding area. You too are welcome to join our circle of customers and enjoy all the benefits.
We offer a wide range of plumbing services catered to both residential and commercial clients
We love our clients and they love our work. Our team is very experienced in both residential and commercial projects.
We had a complicated problem with our plumbing and these guys had to come out multiple times to find and resolve the problem. Each time out they were friendly, professional, and did excellent work. The bill was reasonable as well! We will absolutely be using this company in the future. Thank you.
Had a leak in my apartment and my technician from GEI was very helpful from start to finish! The people who answered the phones addressed my problem was "can-do" attitude and got a technician out to my place in just a few hours. The technician was eager to help, knowledgeable, honest and professional. Thanks for all your help!
I had Gei plumbing services replacing all the pipes in my house. Job was very clean, the also have a remodeling company so they were able to send someone to close all the cuts in the drywall. Definitely recommending this company. I wanted a clean job and not to need to have a contractor coming after the plumber to complete repairs and with this company I was able to have all done in one stop shop.
I had a new tankless hot water system installed by GEI plumbing services and could not be happier with the end result. Jared did a fantastic job of explaining what I should expect with the install as well as operation of the unit. Everything was done very fast and it looks great! He has also been very responsive to my follow up questions as well. I would absolutely recommend him for any plumbing job.
Guy was amazing. We called him when our water heater was leaking. He came to our house within 40 minutes. We got the heater here the same night. He returned the next morning and did the install as it was late. We have new carpet and he was very cautious to cover where he was working to not get anything on the carpet. I would surely use him again for any other plumbing need.
Very awesome! The woman that answer phones and scheduled me was exceptionally friendly and made sure to make me feel like I was a very valued customer. One tech came out personally and got everything fixed immediately! Was right on time and did great work on both of my toilets. Highly recommend! Much cheaper than other quotes I got and great work.
These guys were friendly and professional. They discussed with me the procedures necessary to make the installation possible, and stayed with it through some minor difficulties. I highly recommend them to anyone.
Ido was the perfect gentleman. He assessed my project and gave me the utmost professionalism and service. He responded to my thumbtack request within minutes and was out at the project site within an hour! He also had a plumber at my site within a couple of hours. He was fast, friendly, and acted with the utmost integrity. I will most certainly refer him to all my friends!!
Emergency Plumber in Houston - In What Cases Can We Help You?
Let us not take it for granted and of course a plumber in Houston will be able to open blockages in the toilet and sinks. It is known and not special. But did you know that a plumber can assist you in a wide range of services that you were not aware of? The plumber's deep acquaintance with the sewer systems and the toilets and bathrooms provide him with a broad vision and the ability to understand your specific needs and tailor a comprehensive solution for you that will prevent future malfunctions.
Opening blockages in the pipes
Inspection and replacement of heating elements for solar and electric boilers
Sewerage services for more complex sewer faults
Water menorah replacement
These are just some of the services that can be found at a plumber in Houston who will come and fix your entire apartment / business to make it a proper and healthy system.
How to choose Emergency Plumbing Services in Houston?
The choice of a plumber in Houston must therefore be a choice based on careful and thorough preparatory work, which will also guarantee you the best. Therefore, before making a final decision, it is necessary to verify the following details:
Diploma - Check in advance whether the plumber you are talking to has a training certificate to engage in the field of plumbing and what his area of ​​expertise is. If the plumber does not have a certificate, but he looks professional and reliable to you, find out what his experience in the field is, and whether he has the option of providing you with the names and phones of recommenders.
Price - Most plumbers do not work with a printed and neat price list and do not even print or publish a price list on their website. Usually, the reason is that there is no fixed price for each action. Each type of repair can come up differently and can be determined only after the professional has diagnosed the problem.
Statement - Only after the plumber has diagnosed the problem, ask for a final and accurate statement. This way you will know in advance what the expected expenditure is and decide whether the price is reasonable for you or whether you would like to go and get another opinion.
Experience - It is important to make sure that the plumber you choose has experience fixing problems of the type that are relevant to you.
24 Hour Emergency Plumbing Service in Houston, TX
The thing about plumbing faults is, that usually the visible fault is the symptom and not the disease itself, so we perform rigorous tests to locate the real source of the faults. After troubleshooting, we will update you with the findings and present you with a unique action plan based on the wide range of services and the extensive experience we have in the field. Since plumbing malfunctions can happen at any given moment, it is important for us to be available to you 24 hours around the clock, including weekends and holidays, so that your daily routine is not compromised. Our professionalism allows us to provide you with excellent, efficient and fast plumbing services so that our working hours are short, which will make our work especially affordable and attractive.
Our extensive experience in the field of plumbing has helped us to identify specific questions that occur many times from the various clients we have dealt with over time. So, we decided to focus on the main ones to help you better understand the world of plumbing.
Thank you for visiting our website! The GEI Plumbing Servcies company established its reputation based on quick respond, honesty, great service by a
professional
experts plumbers. We commit for a fast service at the areas of Houston, Pasadena, Pearland, SugarLand, League City, Spring, The Woodlands, Cypress, Katy and Baytown.
For more information and schedule a service please contact us today.
Our team is very experienced in both residential and commercial projects with an attention to detail that guarantees client satisfaction.